This trail starts as the Pamelia Lake Trail. After 2.2 miles, just before the lake, you will find a trail junction. The trail to the right goes to Grizzly Peak.
The trail climbs over 1,310 feet in the next 2.8 miles providing views of Mount Jefferson, Pamelia Lake, the Three Sisters and Three Fingered Jack. The trail ends at the summit of Grizzly Peak.



This map is the same for Pamelia Lake, Hunts Cove and Grizzly Peak. Remember,the Forest Service recommendation is for a more detailed map.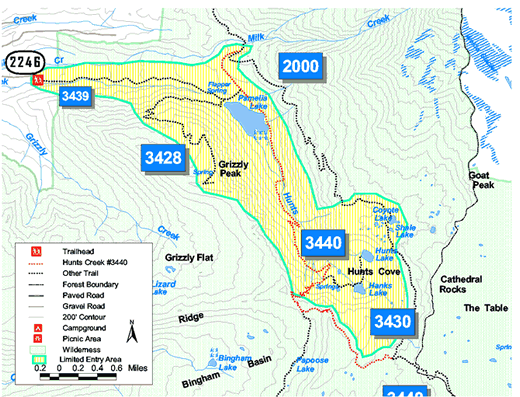 Trailhead directions: From Detroit, Oregon, travel east on Highway 22 approximately 12.5 miles to Pamelia Creek Road (Forest Road 2246). Turn left onto Forest Road 2246, travel 5 miles to end of road. Trailhead parking is on the left.