This trail includes crystal clear streams, lakes, wildflower meadows, and rugged mountain views. Pamelia Lake is one of the most popular hiking destinations in the Mt. Jefferson Wilderness. The trail meanders along the picturesque Pamelia Creek through old-growth rain forest-like Douglas fir, Western Hemlock and Western Red Cedar. From time to time, you will have excellent opportunities to enjoy the creek and its beautiful cascades and view remnants from the 2006 Milk Creek landslide. This landslide came from the Milk Creek glacier on Mt. Jefferson. Just before the lake, you will find a trail junction. The trail to the right goes to Grizzly Peak Trail the trail to the left goes to the Pacific Crest Trail and to the Hunts Cove Trail. The Lake is straight ahead from the junction.



This map is the same for Pamelia Lake, Hunts Cove and Grizzly Peak. Remember,the Forest Service recommendation is for a more detailed map.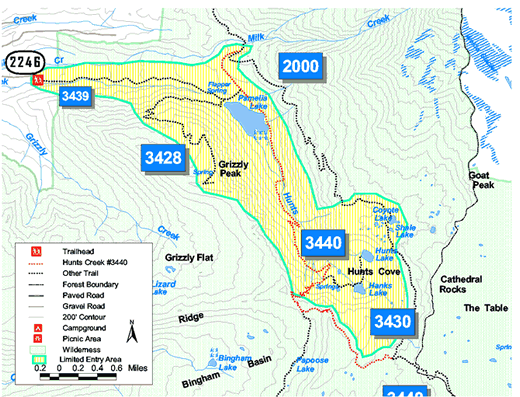 Trailhead directions: From Detroit, Oregon, travel east on Highway 22 approximately 12.5 miles to Pamelia Creek Road (Forest Road 2246). Turn left onto Forest Road 2246, travel 5 miles to end of road. Trailhead parking is on the left.