This trail connects several other trails in the Mt. Jefferson wilderness. From Marion Lake, Minto Pass junction trail heads north through the Puzzle Creek fire of 2006, Swallow Lake Trail, Bingham Ridge Trail, Hunt's Creek Trail all connect to this trail. Lake of the Woods is 2 miles north of Marion Lake Trail junction.
If you start from the Bingham Ridge Trailhead, you will complete the Bingham Ridge Trail. The trail meanders up Bingham Ridge through stands of older Douglas-fir and noble fir. Bingham Ridge trail is a dry steep climb for the first couple of miles; it then eases up for the remainder of the distance to the Lake of the Woods Trail # 3493 junction.
Portions of the Bingham Ridge and the Lake of the Woods trails were effected by the Puzzle Fire of 2006. Hazards from the fire may persist. Use caution.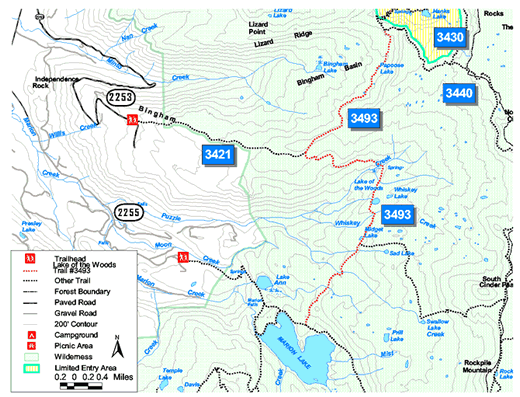 Trailhead directions: One access point is to take the Marion Lake Trail and at the marked junction, turn right away from the lake onto the Lake of the Woods trail.
Another access point is off a junction with the Pamelia Lake Trail
A third access point is the Bingham Ridge Trail. The trailhead for the Bingham Ridge Trail can be found by starting at Detroit. From Detroit, travel East on Highway 22 for 17 miles to Minto Road (Forest Road 2253). Turn left and travel 5 miles to parking on the right and the trailhead on the left.