This is not an official trail in anyone's list of trails. It is the first part of the Chimney Peak Trail, but it does not go into the wilderness. It instead stops at the Middle Santiam River. This portion of the trail is a short day hike. It starts at the end of Forest Road 2041-646 spur, in a clearing in a very tightly packed young plantation forest. The trail quickly descends into a middle aged forest, which has been partially thinned. As the trail descends it gets into a mature, old-growth forest.
You will cross a small creek flowing through the forest.


\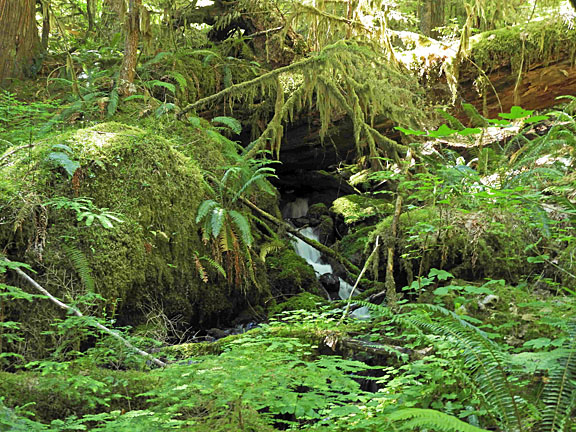 The Shedd Camp Shelter is a small shelter just off the trail. The trail continues down to the Middle Santiam.
A beautiful green pool is to the left of the trail.

Above the falls the river runs through rocks, and then drops into the pool.

Across the river is the Middle Santiam Wilderness.